Dr Djinovic's All Inclusive Surgical Packages
Flat Fees
Dr Djinovic has a policy of making the cost of his medical tourism packages transparent, certain, precise, straightforward and as all-inclusive as possible.
His medical tourism packages include the surgical fee, the hospital fee, the patient's stay in a private room there, hospital food, medicine, nursing care and after care.
If international medical tourists provide Richard (Case Manager | Patient Advocate) with their flight info, the Foundation's driver will be waiting for you at the airport, holding a sign with your name on it.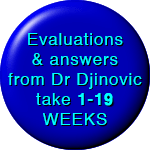 We also try to include as many other perks and medical tourism services as we can to give patients the best value for money and a pleasant, enjoyable visit to Belgrade despite the serious reason for their travel to Serbia.
NOT included in any package is the cost of your hotel, apartment, airfare, extra food not provided by the medical tourism hospital, phone calls, and any activities unrelated to the surgical procedure you are getting.
All medical or medically related costs are included in the PACKAGE price Dr Djinovic quotes to you before surgery — start to finish.
Everything non-medical is excluded.
Perks enjoyed by Dr Djinovic's guests usually include meeting the patient at Belgrade airport on arrival and taking them to their accommodations in the city. This complimentary service must be requested and full flight arrival details must be provided.


On rare occasions, an arriving patient cannot find the driver at Belgrade airport.
However, all medical tourists traveling to Serbia have previously been given Dr Djinovic's personal cell phone numbers, those of the medical tourism hospital or Belgrade clinic and those of the Sava Perovic Foundation office so he/she can easily communicate with the surgeon and catch a taxi to downtown Belgrade, if necessary.
Although technically NOT related to the medical nature of your visit, it is still standard Serbian hospitality for our guests and we are happy to provide the service whenever possible.
… the hospital is truly unique. It's a wonderful place where Dr Djinovic can perform the surgeries … in a very safe & comfortable environment.

— Dr Loren S. Schechter MD FACS PhD
Chicago School of Medicine
A patient's case files contain his/her flight arrival and departure details but the busy surgeons appreciate a few reminders because we have many medical tourists coming and going all the time.
Richard will provide you with full contact details for the doctors, hospital and Sava Perovic Foundation office manager when you provide your flight details.
Have that info in your pocket on arrival, not in your luggage. We recommend you send a portrait photo for the driver to use in recognizing you at the airport.
Book plane tickets ONLY after you have a confirmed appointment for surgery!

Always try to book a flexible return ticket that allows you to stay longer if you need it without a penalty charge.
If a patient experiences complications that tremendously increase the cost of the surgery, treatment and/or after care, Dr Djinovic traditionally pays that out of pocket and does not pass it on to the patient.
Our role model, Sava Perovic, was a great example we try to emulate in our interaction with patients.
Package prices have increased only once or twice since about 2007.
We cannot predict if surgical fees will be the same in six months, in a year or even further ahead in the future.
Dr Djinovic does surgery five or more days a week from dawn to dusk and cannot keep up with demand which is endless.
His fees are a fraction of US or EU prices and the results are far superior.
We understand doctors and/or hospitals you have dealt with in the past may have had hidden costs and/or added items to the bill that were not mentioned BEFORE surgery which made it much more expensive than the original cost quoted.
That is not unique to your country. It is quite common.
But that is not the way Dr Djinovic practices medicine nor the way of Professor Perovic.
Dr Djinovic is completely transparent and straightforward.
PRE-Arrival Medical Tests
4-7 Days BEFORE Belgrade
CHILD

Pediatric Exam (in Belgrade: €50)
Blood Analysis (in Belgrade: €20)
Urine Analysis (in Belgrade: €15)
Blood Group (in Belgrade: €16)
PT (in Belgrade: €5)
PTT (in Belgrade: €5)
*Anesthesiologist may ask for more tests!

ADULT
Exam by Internist (in Belgrade: €56)
Blood Analysis (in Belgrade: €50)
Urine Analysis (in Belgrade: €15)
Blood Group (in Belgrade: €16)
PT (in Belgrade: €5)
PTT (in Belgrade: €5)
Chest X-Ray (in Belgrade: €20)
He honors his word and always maintains quoted package prices — regardless of what strange, unique or unexpected things he may encounter during surgery.
You will find that not only is Dr Djinovic the top urogenital reconstructive surgeon on the planet, he is also kind, gentle, highly ethical and a great person to know.
You can expect everything in Belgrade and everything about the Sava Perovic Surgical Team to be as previously explained.
All tests that should be done the week BEFORE ARRIVAL are, of course, NOT included in package prices.
Travel to Serbia for healthcare tourism is well organized and streamlined.
For procedures that require approval by psychiatrists or qualified mental health professionals, the original psychiatric evaluations approving surgery (on the professionals' official stationary and with their signatures affixed) MUST be hand delivered to Dr Djinovic when you go to Belgrade.
Do NOT send them by any other means.
Belgrade accommodation within walking distance costs Euros 50 to 60 per night.
Nearby furnished apartments are also easily available and excellent value for money but you must book them in advance because they are popular.
Both children and adults need to be healthy without any active illness to be suitable candidates for urogenital reconstructive surgery.
A number of PRE-ARRIVAL tests are required and mandatory.

Dr Djinovic performs all surgery and is assisted by Dr Vlada Pesic and others.
Get all the answers and information you need to get the surgery abroad you want by doing all of the following:
inform us of the date you most prefer to have your surgery performed (you will need to arrive in Belgrade the day before);
submit your medical history (optional but advisable — and if you experience any error, you can use the "Go back one page" button of your browser, add any missing date, and resubmit with a new security code without losing all your form data) or you can download the plain text format file and complete it offline;
send digital photos of your genitalia ONLY if the photos would be RELEVANT such as for hypospadias, FtM phalloplasty, MtF revisions or corrections, Peyronie's or other penile curavature correction. Shoot photos from left, right, center, above and below. For penises, shoot photos in both flaccid and erect states. Instructions for sending the photos are found on our web page about Sending Urologic Photos & Medical Imaging.

DO NOT SEND PHOTOS AS EMAIL ATTACHMENTS if at all possible!!
Dr Djinovic cannot keep up with demand for complex surgeries. Currently, some procedures are fully booked months in advance — or more. Some days six months ahead are already fully booked.
Book appointments well in advance to avoid delays and disappointments.
Many patients get their first choice of a surgery date but not all. We recommend you propose a Plan A and a Plan B. and at least 100-120 days in advance.
You must arrive in Belgrade AT LEAST one day before scheduled surgery for your pre-op consultation and physical exam.
Dr Djinovic recommends you come earlier than needed and stay longer than the minimum amount of time medically mandated.
Minimum medically indicated length of time in Belgrade never includes arrival and departure dates.
In the past, when we offered penile girth enhancement using scaffolds and tissue engineering, it was necessary for the patient to give blood the day before surgery. The serum from that was seeded the scaffolds that were used. Girth enhancement by MegaFill injection has made all that unnecessary and out of date.
Postponement of scheduled surgery must be done at least seven (7) days in advance.
Two weeks before your surgery, notify us that you are indeed coming and reconfirm your appointment made months in advance.
If surgery made far in advance is NOT reconfirmed 1-2 weeks prior to the appointment, the time slot may be given to another patient. Of course, we will also try to contact you to reconfirm the appointment.
It is NOT necessary to fly to Belgrade for only a consultation if enough information and photos are provided to enable a long-distance evaluation.
Neither a face-to-face nor a long distance consultation oblige a person to get any surgery.
If you are a nationality that must have a visa to visit Serbia, we will provide you with an invitation to come for surgery. It must be included with your visa application. Invitations are too much work for only a visit only to consult Dr Djinovic.