Policies
Payment for multi-stage procedures are charged stage-by-stage, not all at once. You pay only for the surgery you are getting during that visit to Belgrade.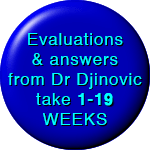 We are a foundation, not a company, so we do not accept plastic cards or check payments for any type for international medical tourism.
Dr Djinovic and the Sava Perovic Foundation have no "payment plans" like in the USA where credit and buying something you cannot afford is a concept deeply embedded in the system.
When we notify you about your acceptance as a good candidate for surgery with a confirmed appointment, we will tell you how to prepare for your surgery, including details about payment options.
NO CHECKS ACCEPTED.
NO PLASTIC ACCEPTED.
All prices are quoted in Euros. The symbol for Euros is €.
As of the third quarter of 2021, the Serbian govenment taxes incoming wire transfers 20%. If you opt for this payment method, add 20% to the quoted surgical fee to determine the total you need to remit.
Contact us for our recommendations and advice about most affordable payment method.
Currency exchange rates change continually all day and every day so our prices in currencies other than Euros also changes all the time.
If you want to know the approximate cost at the moment in US dollars or Canadian dollars or British Pounds Sterling or another currency, you need to search online for "exchange rates" or "FOREX" or something similar.
If you carefully watch FOREX and buy Euros when the dollar (or your currency) is strong and the Euro is weak, then you can save a significant amount of money.
The difference between the high and low exchange rate can be 13-25%.
There are international ATM machines all over Belgrade. They enable you to take small amounts of cash (a maximum of about US$270) directly out of your home bank account and instantly, automatically convert it into Republic of Serbia Dinar, day or night. Quick, easy, convenient.

In Belgrade airport you can sometimes find an international ATM machine that accepts MasterCard, Visa, Maestro, Visa Electron, Cirrus and Plus.
It is not possible for any international medical tourist already inside Serbia to withdraw or transfer substantial sums of money in a timely manner.

In Belgrade, you will be able to withdraw minor amounts of money from your home bank account using ATM machines. Because of local FOREX restrictions, it would take you weeks to cash traveler's checks to accumulate the amount needed for any surgery.
NOTE: Taxis often require cash and many accept only Dinar.