How to Ask for an Evaluation
Long Distance Surgeon Examination & Consultation to Schedule Urogenital Surgery
The Sava Perovic Foundation Surgical Team can no longer keep up with the tremendous demand for complex surgeries.
Dr Djinovic can accept about 1 out of 6 patients who want their surgery performed by him.
Patients must plan ahead and book appointments well in advance to get the date they prefer.
And you must have patience.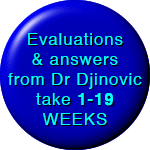 Only patients who have documented they are suitable candidates for surgery and have booked their appointments far in advance are getting their first choice of a date (or close to it). We suggest you propose your first and second choice of surgical date.
The doctors have done as many as 60 surgeries per month, working up to 17 hours per day.
Some procedures take 10 hours each.
Doctor Djinovic can find time outside of surgery to evaluate new cases only once in 1-13 weeks. The record for longest wait is currently 92 days. You must have patience.
The surgeons' schedule tends to be fully booked 100-120 days into the future.
For long surgeries that will consume an entire day, try to plan 4-6 months ahead.
A surgery date proposal from Dr Djinovic remains valid for 14 days.
If a proposal is not accepted and confirmed by a patient within 14 days and converted into a firm appointment, that time slot may be offered to another patient.
Surgery date proposals from the surgeon are not open ended.
To get surgery (only some of these will be relevant to you):
Study carefully everything we have written about the surgery you want to get.

Most of our articles contain a LOT of concise, detailed, and unfamiliar medical information you must know as part of your responsibility to do due diligence.
You will probably need to read relevant articles several times and with a substantial amount of concentration.
Informing yourself is hard work. There is no shortcut. There is no way around it.
You

cannot

apply any information from any other source to surgery from Dr Djinovic.



Tell us the exact urogenital surgery you want.


If there are many variations of the surgery you want, specify the exact surgical package you want.


Tell us when you would most prefer to have your surgery performed. Be precise. Your proposal is not binding.


Submit your medical history using our online form or the text file download.

You can ask the doctor a question on this form if the answer is

not

already published in one of our articles.
We do not answer by email questions proactively answered in our published articles.



Try to NEVER send us anything by email attachment.

Read our article about
how to send us photos, documents, and medical imaging easily with great security and privacy and reliability.


No need to crop, re-size or do anything to photos. Send them to us exactly as they come out of the camera.

But they MUST be in focus.
Do not get the camera too close. It does not make better photos.
Flash photos from about 100-150 cm (3.5-5 feet) away and taken in good ambient light tend to come out best.
Predominantly natural light gives the best skin tones which is also important.



Natal males with Peyronie's, Hypospadias, Epispadias, Micro Penis, Penile Curvature, Erectile Dysfunction, trauma, injury, or wanting Penis Enlargement should send digital photos of the penis

from left, right, center, above and below;
in flaccid and erect states (about 10 shots?);
If you cannot have an erection at all, the penis should be stretched (moderately) when taking photos to the approximate erect length before any disease or problem.



Natal males should provide precise measurements of penis length and girth, erect and flaccid, at present as well as in past when in perfect sexual health.


MtF transsexuals who got a bad surgical result from other doctors and want revisions and corrections should send photos of their genitalia and a precise explanation of what they want changed.


MtF transsexuals who want to know if vaginoplasty using penile inversion technique is likely to provide sufficient depth should send photos of their current penis.


All transsexuals seeking gender reassignment surgery and/or Total Phalloplasty must send true digital copies (scans or good quality photos) of your required psychiatric evaluation letters explicitly authorizing the precise surgery you are to get as specified by the
WPATH Standards of Care to which Dr Djinovic adheres, particularly chapters 4, 9, and 12.

Letters must be on the psychiatrist's official letterhead stationary, signed, and with full contact information for verification of authenticity.



All transsexuals seeking gender reassignment surgery or Total Phalloplasty should send a true digital copy of the medical certificate from your endocrinologist documenting your hormonal therapy.

NEVER send originals through the postal system.

If your psychiatrist does not trust patients with the letter authorizing their own surgery, have it sent to Dr Djinovic by

courier

, NOT by post.



Multiple pre-arrival tests are required a week before surgery.

HIV+ or Hepatitis C positive results disqualify a person from elective surgeries.

No exceptions.
However, we can find a way to work around almost all other pre-existing medical conditions.

Do NOT HIDE THEM and risk your life.





Send a portrait photo for our driver who will meet you on arrival at Belgrade airport to help him recognize you — if you send us complete arrival flight information sufficiently in advance.


Not all cases can be evaluated long distance. SOME cases are so extremely complex that a face-to-face consultation and physical exam in Belgrade is required.