The Perovic Art of Urogenital Surgery
Sava Perovic Team's procedures all tend to be the most advanced urogenital procedures available anywhere and the ones giving patients the best results.

This surgical art continues to be studied, developed and advanced by the world's top urologists, leading andrologists, and the best reconstructive surgeons at hands-on live surgery training provided by the Foundation in Belgrade each year. That has always been and continues to be the Foundation's primary mission.

But Foundation Chairman Dr Rados Djinovic welcomes anyone, ranging from newborns to senior citizens, to become his personal patient, following in the steps of Dr Perovic as a "complete surgeon for all generations, who operates on children, adolescents & adults." He is particularly expert at creating missing parts or a completely missing organ.
Only surgeons whose primary objectives are the best possible surgical results & good quality of life for their patients are interested in learning and offering Perovic procedures.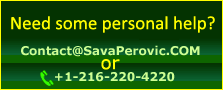 There are many such caring doctors but they are a tiny percentage of all surgeons — and they are scattered around the world.
They tend to be doctors who believe, like Professor Perovic, that "money is not the most important thing."
Doctors who are businessmen first & doctors second are unlikely to subscribe to the Perovic philosophy. Surgeons who emphasize speed, number of procedures per day & profit over the quality of the patient's surgical results will not perform, advocate or praise a Perovic procedure.
Before jumping to a conclusion or allowing anyone to persuade you that procedures developed & refined by one of the greatest names in 21st century medicine while doing more than 20,000 challenging & complex operations are "too good to be true" because they are not offered by a surgeon near you, look deeper. Read more …
Akademik Profesor Sava Perović Hirurg-Urolog
Superiorni operativni rezultati kod Hipospadije | Pejronijeva bolest | Implantacija penilne proteze kod muškaraca | Epispadija | Svi urološki problemi žena i muskaraca, kod dece i odraslih